Middle Capacity Jumbo Roll Toilet Tissue Paper Making Machine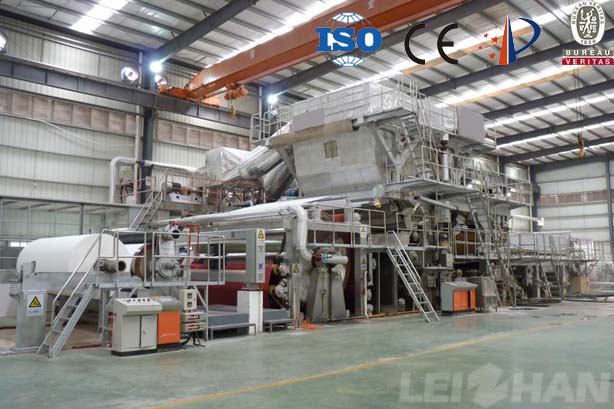 Brief introduction of toilet paper machine
1880mm toilet tissue paper machine can use waste paper (such as waste books, waste newspaper, used office paper, cutting waste from printing house) and virgin pulp as material to make high quality tissue paper. finished product can be small toilet roll, napkin tissue, facial tissue, kitchen towel. capacity is 5-6tons per day for 24 hours. it includes following sections:
1. pulp making line
2. paper making machine
3. paper converting machinery
4. boiler section
5. spare parts
Technical parameters of toilet paper machine :
1. Output paper : tissue paper,toilet paper,kitchen towel ;
2. Raw material: waste paper, recycle paper ,virgin pulp ,cellulose ;
3.Capacity: 5-6ton per day;
4. net paper width: 1800mm;
5. Output paper grammage: 13-40g/m2;
6.Width of cylinder mould: 2350mm;
7.bearing center-center:2900mm;
8 Drive way: Alternating current ,frequency conversion, speed control, section drive;
Popular material for making good quality toilet paper machine:
1.Waste books,waste newspaper,used office paper,cutting waste from printing house;
2.virgin pulp,
3.wood,wheat straw,bamboo,sugarcane bagasse;
Welcome email us if you are interested in our tissue paper making machine, our company can offer you the whole tissue paper making line if you need, and you can also leave message on this webpage, our business manaegr will send you more machine details and price soon.
Email: leizhanworld@gmail.com