A4 Paper Production Machine for Sale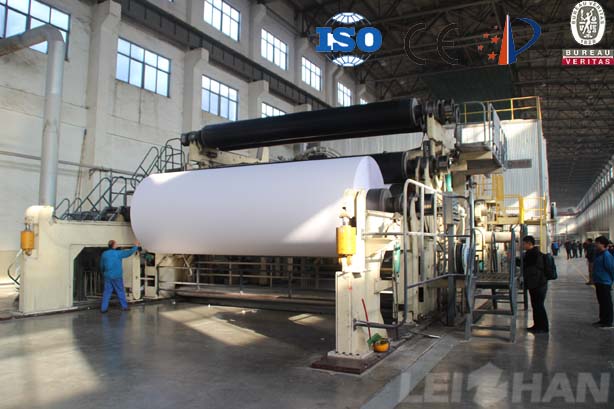 2850mm high grade A4 paper making machine produce 11-25g/㎡ A4 paper, office cultural paper with high speed and low energy, can use wood pulp, white shavings, waste paper as raw material.
2850mm A4 Paper Machine Technical Data
1. Production Variety: a4 paper
2. Paper-making quantity: 11-25g/㎡
3. Trimmed width:2850mm
4. Operating Speed:800m/min (dryer)
5. Design Speed:900m/min
6. Dynamic balancing speed: 1200m/min
7. Main Gauge: Model section 3750mm,dryer section 4150mm,winding part 3650mm (Subject to the final design)
8. Kind of drive :AC Motor speed conversion drive
9. Main drive power: 388.5kw
10. Production Capacity:high
11. Overall dimensions: 32440×8000×7300.(L*W*H)
12. Paper Machine Formation: Crescent forming paper machine, single layer layout
13 The weight of largest part: about 51t(Dryer Components, including drainage, bearing and bearing block)
The paper machinery quality influence finished paper quality directly, and we supply the high quality paper making machine contain paper pulp machine and paper machine, meanwhile we also supply paper machine spare parts, like Felt, Doctor Blade, Dryer Cylinder, etc., if you have any need, feel free to contact us.